Marian Wright Edelman Award Recipients for January 2022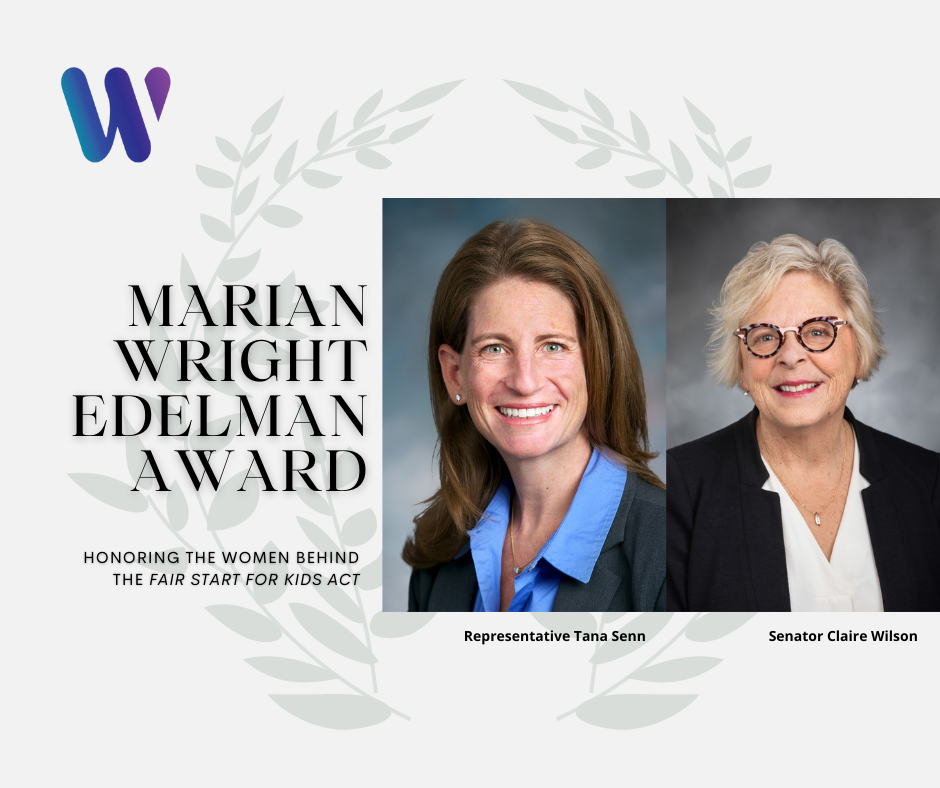 The Washington State Women's Commission is proud to present its inaugural Marian Wright Edelman Award to Senator Claire Wilson and Representative Tana Senn for their work behind the historic Fair Start for Kids Act, which has placed Washington State as a nationally-recognized leader in implementing effective early childhood policy to strengthen its childcare system. 
The Marian Wright Edelman Award was launched to commend the work of leaders championing groundbreaking change in order to close gaps in access and opportunity for women. 
About Marian Wright Edelman
Marian Wright Edelman, whom the award is named for, is the Founder and President Emerita of the Children's Defense Fund (CDF), and is known for her lifelong advocacy for Americans experiencing systemic marginalization. A graduate of Spelman College and Yale Law School and the first Black woman admitted to the Mississippi Bar, Edelman began her career in the 1960s as the Director of the NAACP Legal Defense and Educational Fund office in Jackson, Mississippi. 
In 1968, Edelman moved to Washington, D.C. and became counsel to the Poor People's Campaign that was organized by Dr. Martin Luther King, Jr. Around this time, she founded the Washington Research Project (WRP), which focused on lobbying Congress for child and family nutrition programs and expanding the Head Start program. These efforts pushed Edelman to the forefront as a nationally-recognized, leading advocate for Head Start. In 1973, the Washington Research Project became the Children's Defense Fund and rose to become the United States' leading advocacy group for children. As president of CDF, Edelman has worked to decrease teenage pregnancy, increase Medicaid coverage for poor children, and secure government funding for programs such as Head Start.

Edelman has served as the Director of the Center for Law and Education at Harvard University and is the first Black woman to have been on the board of directors of Yale University. Edelman has published numerous articles and books, including the autobiographical The Measure of Our Success: A Letter to My Children and Yours. Her awards include the Albert Schweitzer Humanitarian Prize, the Heinz Award, the Ella J. Baker Prize and the Presidential Medal of Freedom.
Honoring the Women Behind the Landmark Fair Start for Kids Act
Continuing in Edelman's footsteps, the Women's Commission would like to honor the work of Senator Claire Wilson (D-Auburn) and Representative Tana Senn (D-Mercer Island) for their dedication to improving Washington State's infrastructure, and by extension improving the lives of women and their families across the state, through their work on the Fair Start for Kids Act. 
The Fair Start for Kids Act, which comprised companion bills Senate Bill 5237 and House Bill 1213, was first introduced by Senator Wilson and Representative Senn in January 2021 to address the childcare crisis in Washington exacerbated by the COVID-19 pandemic. Research has shown that more than 60 percent of Washington state residents live in a "child-care desert," where demand for childcare has rapidly outpaced availability. It is estimated that working parents in Washington State forgo $14 billion a year in wages due to the lack of child-care access. 
The Fair Start for Kids Act presents a comprehensive, multi-faceted approach designed to (1) improve availability, affordability, and access to childcare; (2) stabilize and expand the childcare workforce and delivery system; (3) strengthen prevention and intervention services; (4) address racial equity; and (5) boost the economy as Washington seeks to recover from the pandemic. 
To do so, it proposes that measures to increase child care subsidy rates, reduce families' copays, and offer business and mental health supports be implemented, thereby strengthening the capacity of licensed childcare providers and enabling working individuals of Washington — disproportionately working mothers and women who had given up work to take on caregiving responsibilities — to return to work after the mass exodus of women from the workforce in 2020.
When Governor Inslee signed the Fair Start for Kids Act into law on May 7, 2021, it marked the largest investment in early learning in Washington State's history. It will provide women crucial support to participate more equitably in the economic recovery of our state, while also providing more children a fair start in life. And in the words of Vice President Kamala Harris, "When we lift up women, we lift up families, we lift up communities and all of society benefits." 
The Women's Commission is deeply grateful for the work of Senator Wilson and Representative Senn for their dedication to reducing barriers and improving the lives of women and families in Washington State, and are honored to present this award to commemorate their work.