The Economic Impact of the Pandemic on Washington Women: A Conversation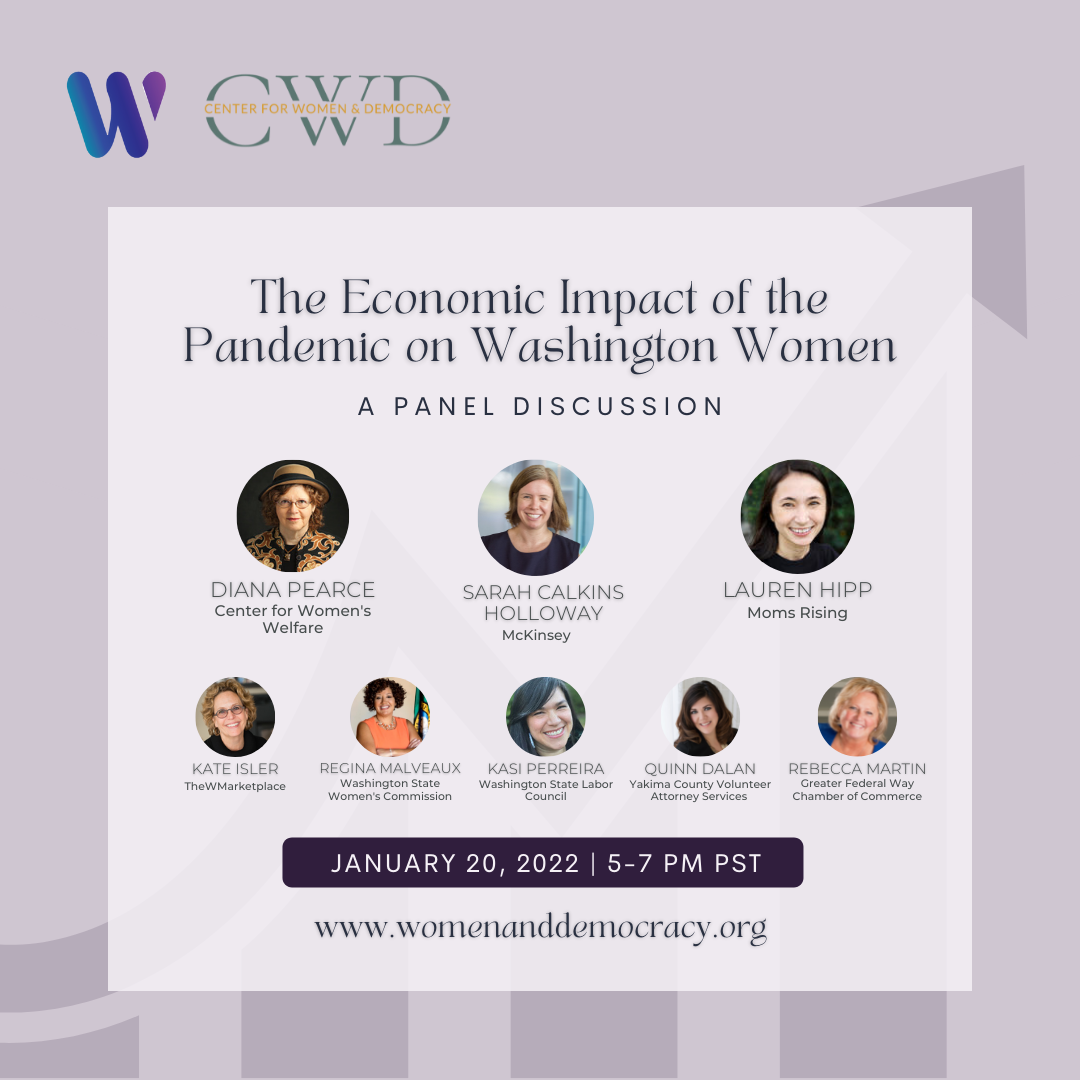 The Washington State Women's Commission is honored to partner with the Center for Women & Democracy to host a special two-hour virtual event on Thursday, January 20th from 5 to 7 pm.
The COVID-19 pandemic and its economic repercussions have disproportionately impacted women and especially women of color. In the US, from February to April 2020, women lost 12.1 million jobs. Recent data shows that women hold 2.3 million jobs less than they did pre-February 2020. Many working mothers made the difficult decision to shift to part-time work or permanently leave the workforce due to difficulty in finding childcare and handling homeschooling responsibilities. The long-term impacts will include, but not limited to, decreased savings for retirement. 
Join us as we listen to leaders and experts in policy, law, public service, and education as they explore the statewide economic impact of the pandemic on women in Washington State. They will discuss policies and actions needed to build a more woman-centered infrastructure that improves equity for working women.
Part 1 – Learn more about the scope and depth of the pandemic's impact on women
Diana Pearce, University of Washington
Sarah Calkins Holloway, McKinsey & Company
Lauren Hipp, Moms Rising
Part 2 - Panel Discussion on What Needs to Be Done
Moderator: Kate Isler, The W Marketplace
Regina Malveaux, WA State Women's Commission
Kasi Marita Perreira, Washington State Labor Council
Quinn Dalan, Yakima County Volunteer Attorney Services
Rebecca Martin, Greater Federal Way Chamber of Commerce

 
Event date:
January 20, 2022 -

5:00pm

to

7:00pm